LIFE Center
LIFE Center is built to help bring LIFE in a variety of ways
We are open! We do ask each guest to use hand sanitizer upon entry as well as sign in at the office window.
If you have been sick in the last 48 hours, we do ask that you do not come to the LIFE Center.
The LIFE Center is here for you and your family. Here are our typical hours of operation Monday-Saturday.
Monday - 6 am to 8 pm
Tuesday - 6 am to 8 pm
Wednesday - 6 am to 5 pm. *Walking track available till 5 pm
Thursday - 6 am to 8 pm
Friday - 6 am to 8 pm*
Saturday - 7 am to 5 pm
We are closing at 5 pm on home Marlow High School football games.
The LIFE Center is located to the west of our main church building. Our main doors face 4th Street.
Follow us on Facebook at https://www.facebook.com/MarlowLifeCenter/
We believe this facility is for the community not solely for the church. It is why it was built! It is for everyone in the community not just for church members. Come check out the LIFE Center for yourself! From our walking track, weight room, all the way to the basketball floor, we are here for you and your family. We want to make your LIFE better!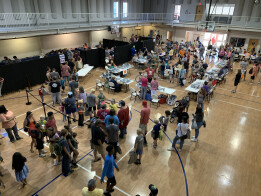 School Daze 2019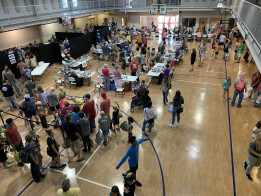 The LIFE Center hosts blood drives, the Marlow Chamber of Commerce banquet, the Community Thanksgiving meal, the Marlow Samaritans food basket giveaway, and many Marlow Public School events. We are available for birthday parties, and of course, a great place to exercise. We have a walking/jogging track, basketball court, volleyball, and a weight room.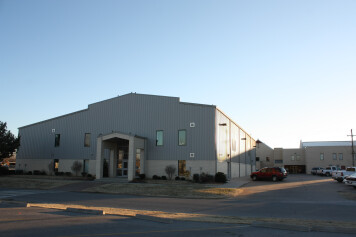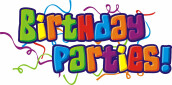 On Sundays, many of our adults come together for Bible studies. We have Bible study times at 8:40, 9:40, and 10:40 am on Sunday mornings. We would love to help you connect to a Sunday morning Bible study. Contact our LIFE Pastor, Jeremy Witt for more information.