DAILY DEVOTION
FOR
MONDAY, MAY 4

SCRIPTURE: JAMES 5:7-12
Author: Jeremy Witt

I have a prayer request as we begin. A longtime friend and brother in ministry and he needs urgent prayer. His name is Brandon Kalicki. He is a husband to Shanna and has two teenage kids.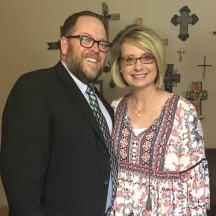 He has been at Watonga FBC as a student pastor for over 13+ years. He is battling cancer, has pneumonia and his kidneys are shutting down. Of course, his family can't even see him due to this virus. Thank you.
Back to James https://bibleproject.com/explore/james/
I just started teaching through James in our online Sunday morning Bible study. I found this site which gives a great overview of James. I learned something that I wanted to share. The author of our letter, via the Holy Spirit, his name is not actually James. It is James in English. In Greek, his name is Jakobas or Jacobas. (Spelling?) I do not understand why he didn't go by Jacob, but it was something I learned that I felt that many of you might enjoy learning.
Remember that Jacob or James was one of the primary leaders of the Jerusalem church. James most likely wrote this one year before he died according to most researchers. The church in Jerusalem went through many difficult times including a famine in which Paul sent offerings from other house churches that he helped to start in the modern-day Turkey and Greek areas. Most churches did this because the Jerusalem church was struggling, but also these churches heard the Gospel because of these believers shared with others. When Saul and later Paul was persecuting the church (Jerusalem), they (Christ-followers) fled to other places like Antioch and shared Jesus where new churches were started.
Why am I going back to this information? James or Jacob just went over money or riches in the first six verses. Now in verses 7-12, James is addressing patience, suffering, and endurance. The church in Jerusalem is still under suffering. Primarily, this is coming from the Jewish people who view the church as a cult or sect. The "orthodox" Jews are the primary cause of this, which would help explain why James refers to the Old Testament so much. This is why he wrote as their wisdom literature did. He was trying to reach his people with the hope of the Gospel. This is also why he said that "faith without works is dead." The Jewish people had many works in their tradition. For their faith not to be lived out would not help reach other Jews. Their faith had to impact their entire lives. It could not be hidden. (Do you see where I am going?) THE SAME IS TRUE IN OUR CULTURE! People will not come to know Jesus if we are not real. James wrote in such a way as to encourage other "Messianic" Jews or Jewish Christ-followers. If we do not live a life that our faith is lived out and shown, people will never come to know Jesus Christ as Savior and LORD.
James gives some clear ways to be patient, to endure, and to suffer well for the LORD. Just like the farmer who waits on the rain and waits on the harvest, he is still active throughout the growing season. They were expecting Jesus to return, but they were reminded not to just sit inside and wait, but keep working. Waiting for the rain can be difficult. Praying that when it does rain that there will not be hail or that bugs will not eat the produce is difficult for any farmer. This is the same for a Christ-follower trying to live out our faith and waiting on our LORD to return.
James also refers to something else we should do in the meantime, and it ties into the sermon from yesterday. Read verse 9. Don't grumble or argue with other Christ-followers. The longer we wait, the more frustrated we become. This is why James speaks of patience. Go back to James 1:2. "Consider it pure joy, my brothers and sisters when troubles come." Jesus told the disciples, "I have told you all this so that you may have peace in Me. Here on earth, you will have many trials and sorrows. But take heart, because I have overcome the world."
May we take these words to heart and into practice. For we are promised by our Savior that we too will have trouble, but we can rest in His peace.